Description
Devoran Metals supply Kota screed rails for the professional installation of concrete floors. Kota screed rails offer many advantages to the end user who is looking for a fast, easy to install and robust solution to screed floors.
Manufactured from fibre reinforced concrete in 3.9m lengths, Kota rails are available with a flat top or galvanised metal top.
Advantages:
Lightweight and easy to handle
Can be used with all types of vibrator beams
High quality workmanship
Cost effective
Download KOTA Screed Rail Spec Sheet
Kota Concrete Flat Top
The Kota flat top rail is a very sturdy rail with a unique profile providing excellent bonding and superior consistency on the top face. Distance between 20mm dowel holes is 300mm.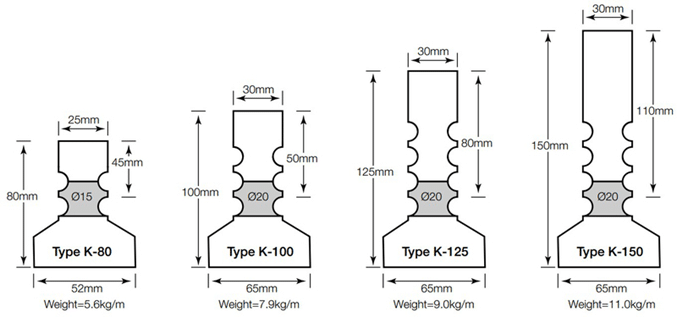 Kota Metal Top Screed Rails
The Kota metal top rail is a combination of concrete and galvanised steel. The 1.5mm top profile of galvanised steel provides a very straight and fully controlled hairline crack. A PVC profile is used where the shrink line needs to be integrated and sealed. Distance between 20mm dowel holes is 300mm.


Instructions for use:
The Kota screed rails are laid on soft, lean concrete, which is heaped up at distances of 800-1000mm apart. The rail is then levelled and concrete can be placed the following day.
Kota rails can be cut with normal concrete cutting saws.
Metal or Plastic screed rails are also available to order on request.